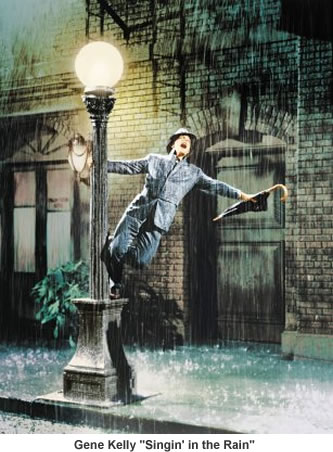 1) My TNT spring 2010 team is jinxed when it comes to the weather! The forecast for Sunday's Flying Pig is 70% chance of heavy thunderstorms..... I sent them the link to a YouTube video of "Singing in the Rain" with Gene Kelly. He was so happy to be in the rain, maybe it will work for them.
2) Holy Hot-tub Time Machine...... I saw a guy at the Community Center put on one of those vinyl sweat suits that people used to wear to lose weight! Then he topped it off with a Velcro corset type thingy. All of this under a sweat shirt. I hope he didn't pass out while exercising.
3) Our weekly TNT Track workout was moved to a different track when we got there and the middle school was actually holding a track meet! Fortunately there is another school track about three miles away that we were able to use. The team kicked out some great intervals, although we have some work to do on their drills skills. It was comical to watch adults try to butt kicks and knee highs with no coordination...
Had a fantastic lunchtime run, so I got that out of my system. Bring on the crappy runs...........